Best

Cataract Surgery

in Nigeria
Cataract is an inevitable part of growing old. But, the good news is it can be treated through a hassle-free cataract removal surgery. At Africa Eye Laser Centre, we offer the cataract surgery in Nigeria through both conventional and latest techniques which assures excellent visual results. Our cataract surgery (in Benin Nigeria) barely takes 15 minutes and during the procedure the cataract-affected lens is removed painlessly and replaced with an artificial lens, called the Intraocular Lens (IOL).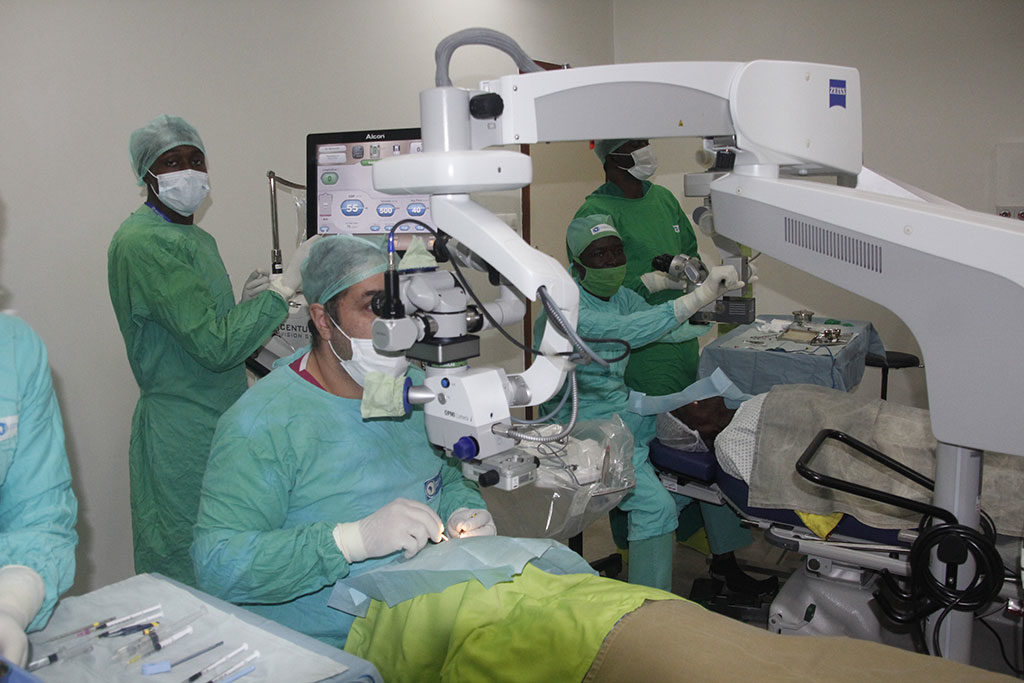 What are

Cataracts?
Cataracts are clouding of the natural, clear lens of the eye. It usually develops as we age, but occasionally cataract formation may be seen in newborn babies and young ones too. These congenital cataracts could be the result of genetic tendencies, drug reaction caused during the developmental stage, eye infection, trauma or injury, etc. However, whatever may be the cause, cataract leads to a blurred or double vision which makes it difficult for an individual to perform his/her daily chores.
But, as a caution, you should not let cataract severe enough as any delay in seeking proper and timely treatment may leave you visually impaired for the rest of your life.
Risk Factors For Developing Cataracts Include:
Aging - 65 years and above
Prolonged use of steroids
Excessive exposure to UV rays
Diabetes
Eye injury/trauma
Alcohol abuse/ chain smoking
Obesity
Treatment Options for

Cataract Surgery

in Benin City Nigeria
With the use of advanced and new-age technologies, you can get rid of foggy-frosty vision caused due to cataract development in the blink of an eye! At Africa Eye Laser Centre, we offer these painfree and hassle-free modern cataract surgeries at a very affordable cost. You can opt for one of the procedures that suits you the most.
Cataract Surgery
Surgeon uses blade to create an incision.
Lens is broken using phacoemulsification, a small device which releases ultrasound waves.
Procedure takes 20-30 minutes per eye.
It is not a 100% blade-free surgery.
It is partly computer controlled.
This offers fast wound healing.
Patients can resume to their work and normal life soon.
Looking For A

Cataract Specialist

in Nigeria?
Are you still looking for a cataract surgeon in Nigeria? Well, don't look any further! Contact Africa Eye Laser Centre, the best hospital for a cataract operation in Nigeria. Our top cataract surgeons in Nigeria are some of the experienced and renowned ophthalmologists. With utmost precision, skill and acumen, they perform even the most critical of cataract surgeries with much ease and comfort. Our team of surgeons also assist you in selecting the perfect IOL based on your visual and daily needs.
At Africa Eye Laser Centre, you are in safe hands!
Book an

Appointment

today
Cost of

Cataract Surgery

in Nigeria
AELC, the best hospital for cataract surgery in Nigeria guarantees the latest treatment for cataract removal at an unbeatable price. And, for our international patients too, we offer pocket-friendly cataract surgery packages in Nigeria. So, why settle for ordinary, when you can get the best treatment at less price!
When it comes to your eye health, don't get lured by hospitals promising cheapest cataract surgery in Nigeria or around the world, get treated at the hospital that assures fast recovery and excellent visual results.