Eye

Testing
Regular eye testing is a powerful tool for assessment of overall health. Most experts agree that regular eye examinations help to keep your eyes in the best shape possible. Infact, frequent eye tests not just helps an ophthalmologist to timely detect various eye problems but it aids in the treatment of eye disorders at their nascent stage. That's why, at Africa Eye Laser Centre, one of the best eye testing centre in Nigeria, Africa, we recommend all healthy adults, even the ones without any vision problems, to have a comprehensive eye examination. For eye checkup in Nigeria, contact us.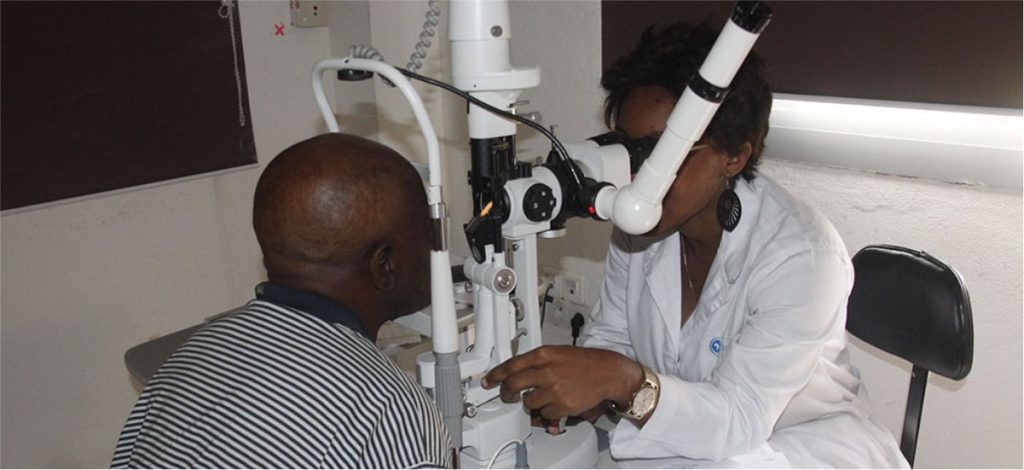 Eye Examination :

Frequency and Basics
The frequency of your visits to an ophthalmologist may depend on several factors. Some adults may need more frequent eye tests depending on their general health, age and if they have any ongoing eye disorder, etc.
Children below 5 years necessarily need a routine vision screening to look out for common eye problems like Lazy Eyes, Squint, etc.
Adolescents and School Children need eye exams so as to protect their eyesight and to know more about their general health.
Adults, especially after 40 years (even if in good health) need a comprehensive eye check-up every two to three years. After 65 years, get eyes examined more often as Cataract, Diabetic Retinopathy, ARMD, etc., may develop as we age.
Diabetics or ones who have a family history of diabetes, are recommended to get their eyes examined more often so as to maintain good eye health.
Patients with Genetic Eye Disorders such as Glaucoma need to see their ophthalmologist on an ongoing basis.
Best Eye Testing Centre

In Benin Nigeria
At Africa Eye Laser Centre, the best eye testing centre in Nigeria, we offer a comprehensive eye checkup through a smooth functioning. We provide a hygienic and aesthetic environment, best yet affordable treatments and experienced ophthalmologists who understand your unique eye care needs.
Eye tests are designed to test your vision and eye diseases with the help of modern and sophisticated machines.
During a routine eye testing, ophthalmologist begins with knowing more about your medical history including any vision problem you might be experiencing at that time.
The eye doctor tests your visual acuity, which is the clarity of your vision.
If ophthalmologist believes that you are in need of glasses so as to correct your vision, he will hand over an appropriate prescription.
If your eye pressure is higher than average or your optic nerve looks unusual, then you may need more-specialised tests.
None of the eye tests performed during a routine eye examination are painful or uncomfortable.
Book An

Eye Test

Appointment Now!
If you experience occasional bouts of blurred vision, headache or any kind of eye trouble, book an appointment us immediately.
Our expert counsellors will guide you through the entire process- right from selecting the right ophthalmologist for your unique eye needs to locating us.
For queries or to find out eye checkup centre nearby you, contact us.