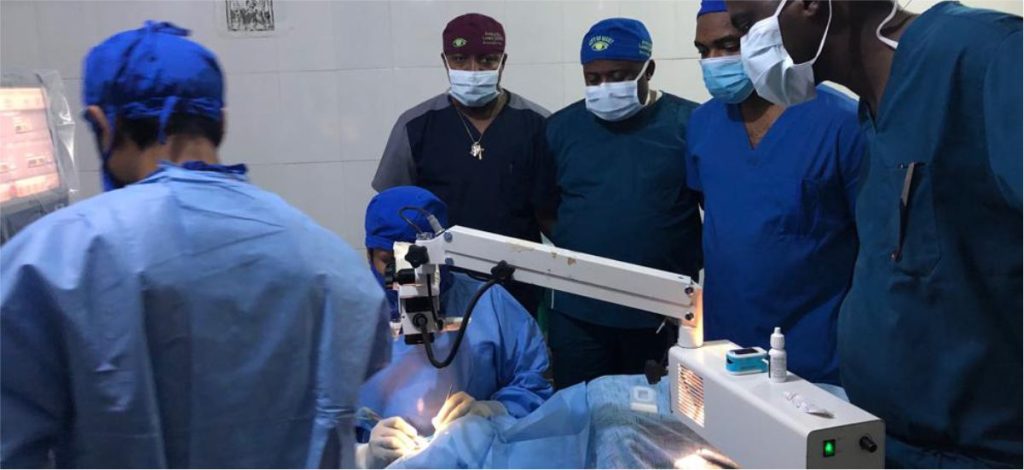 Best

Glaucoma Treatment

in Nigeria
Glaucoma: Early Detection Is The Key To Save Vision
Glaucoma or 'kala motia' is a condition where optic nerve of the eye gets damaged due to increase in intraocular pressure (IOP), thereby causing blind spots in the area of vision. And, any loss of vision that occurs due to optic nerve damage cannot be reversed.
Glaucoma is often hard to detect and it rarely shows any signs/symptoms at its beginning stages, but once the complete nerve is damaged, it leads to the total loss of vision. Therefore, any individual with the family history of Glaucoma, or who is at a risk of developing the condition, needs to be extra cautious and get their eyes examined, regularly.
Glaucoma cannot be cured but it can certainly be prevented with its early detection and timely and regular treatment. At Africa Eye Laser Centre, the best eye hospital in Nigeria for Glaucoma, we understand the importance of healthy eyesight and therefore, we offer the latest and best Glaucoma Treatment in Nigeria at affordable cost.
Types of Glaucoma:
Open-angle Glaucoma
This is the most common and chronic form of Glaucoma that causes damage to the optic nerve. Loss of vision too occurs gradually and painlessly. At AELC, we have some of the best Glaucoma surgeons in Nigeriawho diagnose Glaucoma through the latest state-of-the-art machines so that your vision can be preserved to prevent blindness.
Angle-closure Glaucoma
If Angle-closure Glaucoma is not treated in time, it can result in complete loss of sight. Some of the common symptoms of this condition are severe pain in eyes, distorted vision, headache, vomiting, etc. At AELC, one of the best eye hospital in Nigeria for Glaucoma, we use the world-class equipments to diagnose and treat Glaucoma before it can cause any further damage to your eyes.
Warning Signs of Glaucoma
Pain and redness in eyes
Blurred, double and reduced vision
Headache and vomiting
Cloudy cornea
Hard to adjust to dim light
Watery eyes
Dry eyes
Best Glaucoma Hospital in Nigeria
Glaucoma cannot be cured, but it can surely be controlled with the help of regular medications, eye drops, laser treatment, and surgery, etc. At Africa Eye Laser Centre , the best eye hospital in India for Glaucoma, we emphasise on careful evaluation of the optic nerve and investigate patients thoroughly with the use of latest diagnostic and advanced machines. We offer the best Glaucoma Surgery in Nigeria; however, Glaucoma surgery is not as predictable as cataract surgery.
Through our Glaucoma treatment, which varies depending on an individual's eye condition, we aim to lower IOP in the eye, thereby reducing any further damage caused to the optic nerve. With the team of some of the best Glaucoma surgeons in Nigeria, we rank among the top ten eye hospitals offering treatment for Glaucoma in Nigeria.
Book an

Appointment

today